The West Bay Cane Beds in Lake Poygan have been in decline for decades, but the last decade has been particularly unkind. The beds are rapidly eroding from wave and ice action. The beds are now so small that a hand full of muskrat families are eating much of what remains.
I flew a small drone over the vegetation to document its current sad condition and to compare with some past air photos.
Easily visible in the video is a blue-green algae bloom. I also too a video of the algae underwater, see below.
The canebeds are primarily composed three species of plants today: Cane (native Phragmites australis also called Common Reed), Hybrid Cattail, and Hardstem Bulrush. Formally Stiff Arrowhead and River Bulrush also rounded out the emergent vegetation. On the north side of the beds are beds of Spatterdock and White Water-lily and a small amount of submergent vegetation.
The West Bay Cane Beds sit on a sand bar that marks the outer edge of a once extensive wetland, that has long since eroded away.  Since it is the only highpoint, and vegetation for a long distance it is an important piece of habitat for the lake.  The lake bed is owned by the Lake Poygan Sportsmen's Club, and they have been undertaking a variety of management strategies with the Wisconsin Department of Natural Resources to protect and restore the beds.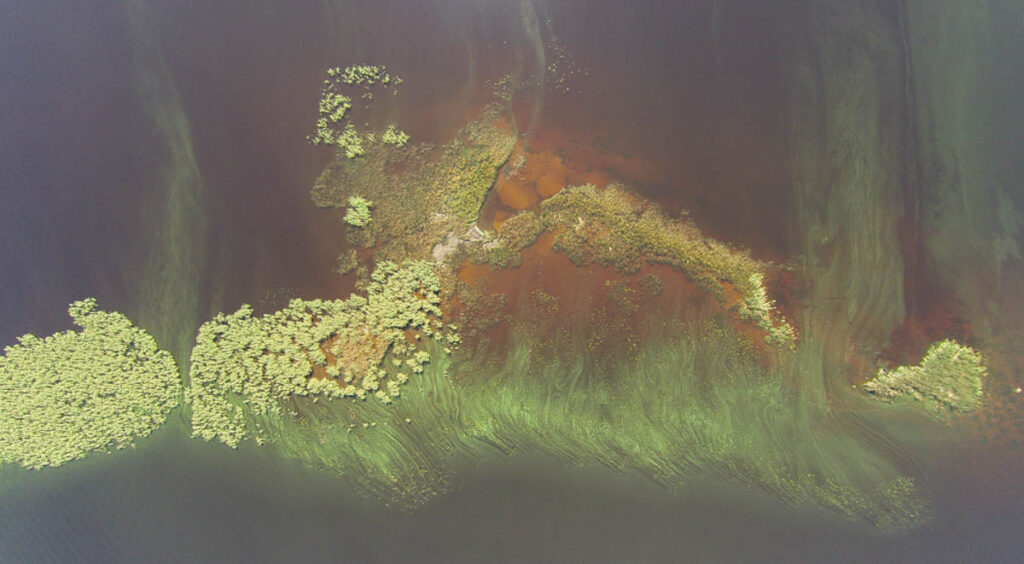 Video taken from a DJI Phantom 2 drone with GoPro Hero 3+ Black Edition camera.