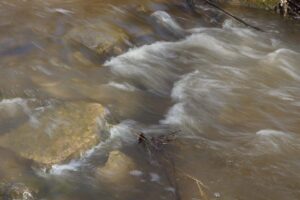 This week the temperature was warm, and the kids were in school, so I took the opportunity to get outside and enjoy the sun after a very cold February. I hope to be getting out a lot this year to experience more of nature and work on my photography, so I am adding a new feature.  It is a sort of review of the previous week, mainly in photographs that will show what is happening in the natural world.  It may be only a photo or two by the time December rolls around, we shall see, but it should be rather rich in the warmer months.

This week I visited High Cliff State Park near Sherwood Wisconsin.  High Cliff features the ruins of a lime kiln used to bake the local limestone to produce lime to make cement.  The old ruins are home to a number of European Starlings, and this day they were calling and singing from small trees growing on the top of one of the old stone buildings.  The video below shows the silhouette of the birds, and the sounds of their calls with a few other species in the background.
What little snow we had is quickly melting, swelling the little creeks that run through the countryside.  In my area, these streams all run through farmland and so pick up soil and nutrients and look brown.  Nevertheless they still produce the peaceful sights and sounds of running water.
Above: Dagget's Creek with Spring Runoff